6 Questions in the Custom High-Pressure Pump Design Process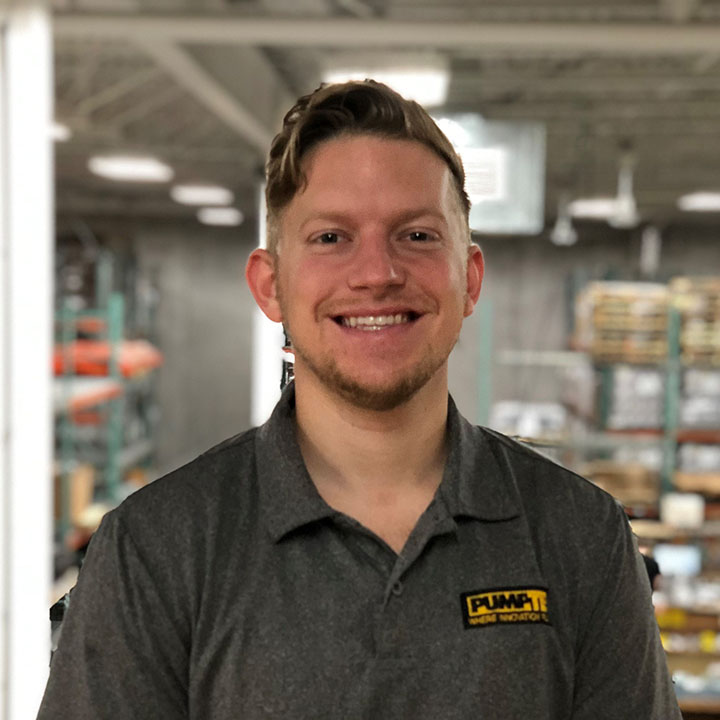 Grant Schroedter, Mechanical Engineer, Nov 15, 2022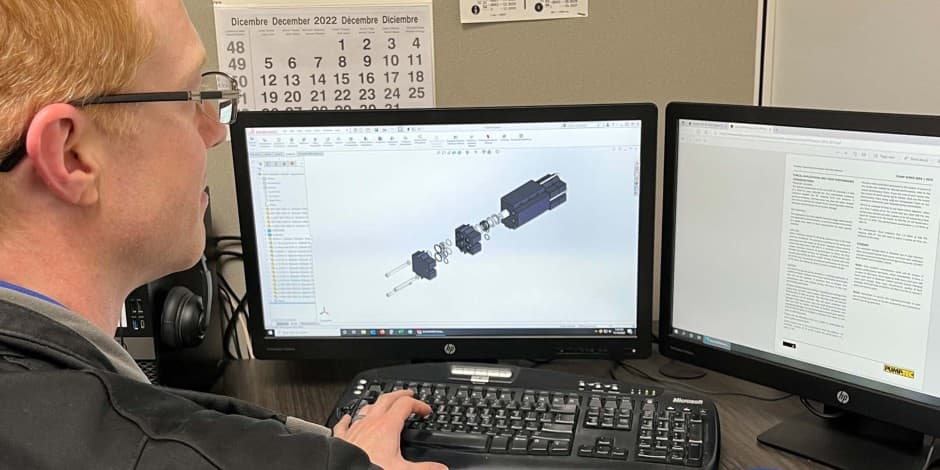 There's a wide range of individuals who contact us to talk through their custom pump needs. Some are entrepreneurs and inventors while others are large OEM corporations that are established in the pump system market. And, there's everything in between.
Does your pump application even require a custom solution? Not necessarily. There may be an existing pump product that meets your desired performance requirements.
No matter the scenario, there is typically a set of qualifying questions our engineering team asks to help determine needs and whether a custom pump solution is a fit.
1. What are your application and technical parameters?
Every pump manufacturer will have certain applications and performance parameters that fit in their wheelhouse. If a customer needs a high-flow pump for industrial water treatment plants, for example, our team will quickly determine that we're not a fit. Pumptec specializes in low flow, high-pressure pump systems.
Some common applications for Pumptec high-pressure plunger pumps include:
Agriculture (boom sprayers, lawn care, pest control, etc.)
Misting (dust control, disinfection, evaporative cooling, etc.)
Portable sanitation
Desalination
Commercial cleaning
Carpet cleaning/extraction
And more
Be ready to provide your desired GPM and PSI and what type of environment the pump will operate in (dusty, hot sun, truck mount, indoors, etc.) What is the duty cycle (how many hours a day does the pump operate)? The nozzle size is important also, as is reservoir tank size and other technical information. Knowing the basic performance requirements of a customer's application will help determine whether the project aligns with Pumptec's core competencies.
2. Are you looking to switch from another pump? Why?
We're often contacted by manufacturers that already use a pump from another company but are looking for other options. Some reasons include too many warranty returns, not enough pressure, inconsistent flow, or oil runs out when the pump tips over. At Pumptec, we'll not only help find a better pump but will also explore why the previous pump failed.
3. What chemicals are you pumping?
For pumps that only pump water, there's a good chance an existing or slightly modified pump can meet your needs. There are many more considerations if a system needs to pressurize chemicals, however. Chemical incompatibility is one of the biggest drivers of pump failure.
We use aircraft-grade anodized aluminum or stainless steel for many of our pumps. Both are extremely strong. PVC, however, might be more compatible with a chosen chemical, but its tensile strength is lower. Ceramic plungers are often used with a wide range of harsh chemicals as well. If a pump needs to take a lot of abuse, a combination of materials can be designed to achieve the right balance of compatibility and durability.
PRO TIP: Know the exact combination of chemicals your pump system will use and contact the chemical manufacturer for compatible material recommendations. Often, compatibility charts found online are not complete or reliable.
4. Is there an existing solution that will work?
A customized sample can typically be delivered within a few weeks. It's important to consider that you might not need to reinvent the wheel and can expand on what's already available. In that case, we'll create part numbers and drawings and will send out a sample for you to try.
There are a few approaches. One is to allow our team to develop CAD drawings and models with plumbing configuration recommendations based on our knowledge of the pump design and how it will perform best in your system. Another is for your OEM engineers to collaborate with our team to optimize your configuration when appropriate. We might recommend fewer elbows, different pressure regulators, an outlet pulse hose, or a stronger inlet hose.
Some pumps, like those for portable sanitation, may be plumbed differently each time depending on the truck they're mounted to. These inconsistencies can be challenging. It's best to design the configuration to overcome the most complex and challenging scenario.
5. What is the timeline and number of units?
In cases where we do not have an existing solution, we may be willing to begin an R&D project and develop a new pump. However, prototyping a new pump design can be a lengthy process, somewhere between six months and a year or more. For example, we maintain a sufficient supply of our mainstay motors, but a new motor sample could take as long as six months to arrive due to supply chain issues. From there, the sample motor is tested in a pump design for a month or two to ensure it performs properly. Assuming it does, a pallet of motors is ordered for production (which could be another six-month turnaround time).
Timing is also dependent on good communication. Ideally, once we've performed our internal pump testing, we send out our pumps for field testing by actual operators. Their feedback is invaluable, and timeliness of responses helps move a project along.
Also consider that an R&D project won't be opened up for one or two units as it would be cost prohibitive for both parties. That said, we'll work diligently to find an existing pump to meet the need.
6. Is your design idea optimized?
Finally, our team will review your design, make recommendations for optimization, and collaborate with your team to inevitably end up with a better product. We'll not only evaluate the internal workings of the pump, but also help determine the best types of hoses, nozzles, reservoir tank placement, and even whether to use Buna or Viton O-rings.
Those who design pumps often have great ideas, and we enjoy bringing them to life. There are major benefits for those who are willing to leverage our engineering team's knowledge and experience. They know what works and what doesn't. They'll work with you to determine the best outcome that fits in your budget.
How do you get started? It's helpful to first download our High-Pressure Pump Selection Checklist to outline your needs. Then, contact our team to talk through your project and whether Pumptec's custom solution is a fit.