High-Pressure Pump Installation Tips for Portable Restroom Trucks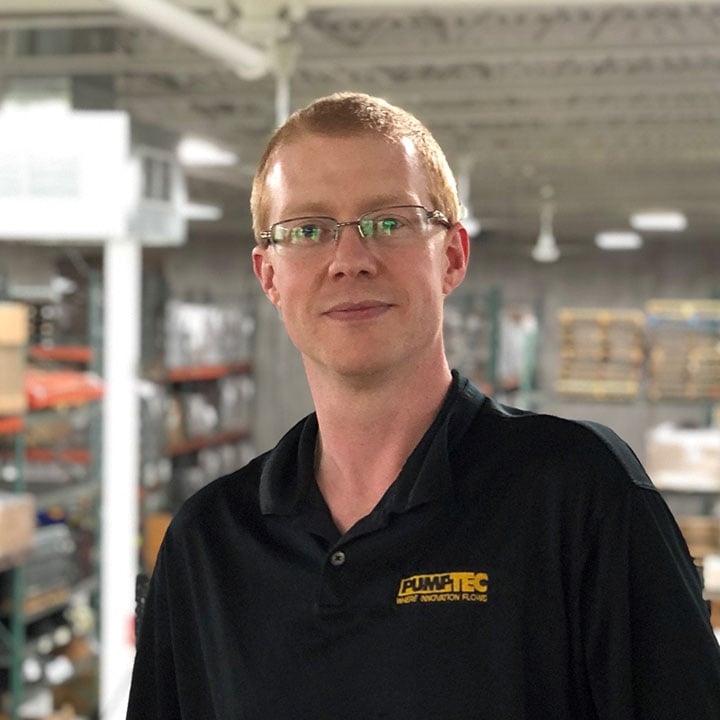 Jonathan Walsh, Senior Engineer, Jan 17, 2023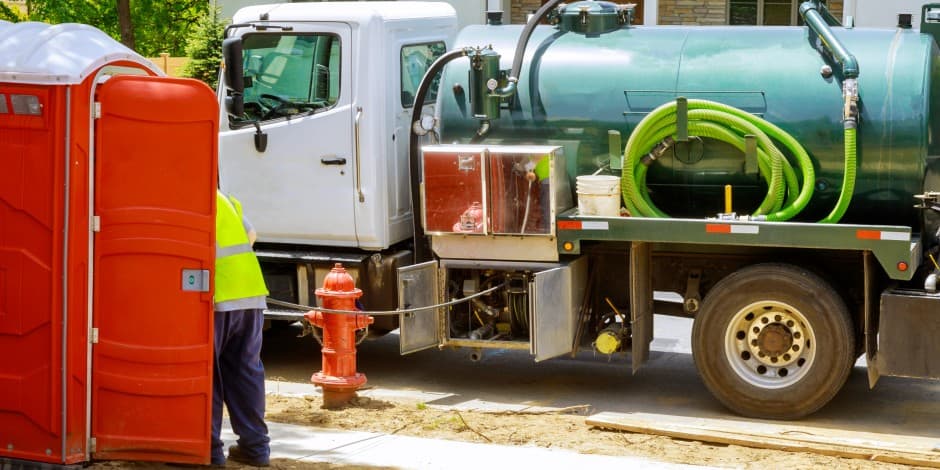 Designing and manufacturing trucks used for cleaning and filling portable restrooms is undoubtedly a niche industry. Each portable sanitation company may have different requirements for fresh water and waste tank capacities, truck models, accessories, and more. Some trucks are even equipped with lift gates and portable toilet hauling capabilities.
Because portable restroom trucks are so customized, the location and plumbing configuration of the high-pressure washdown and fill pumps can vary considerably with each one. Improper placement or plumbing, however, could negatively affect performance or cause premature pump failure.
The type of pump is also a major consideration. Use these high-pressure pump installation and selection tips to help ensure peak performance.
RELATED ARTICLE & VIDEO: What to Look for in a Portable Sanitation Pump
Selecting the Right Washdown & Fill Pump
Before proper placement and configuration of plumbing can take place, truck manufacturers or operators must identify the type of pump they want installed. There are two common types on the market: centrifugal pumps and plunger pumps.
Because of their positive displacement function, high-pressure plunger pumps have a distinct advantage over centrifugal pumps. While centrifugal pumps can deliver adequate flow to fill a portable toilet unit, they do not provide enough pressure to wash it down. As a result, operators typically need to install two pumps: one for washdown and another for fill. That could mean twice the cost and twice the maintenance.
Plunger pumps kill two birds with one stone, providing twice as much pressure as centrifugal pumps to knock down dirt and debris without brushes, plus enough flow to quickly fill reservoirs. As an example, Pumptec's X-Series pump was designed for portable sanitation and delivers 125 PSI. While that may not sound like a lot of pressure, the tremendous amount of volume creates significant washdown power at the nozzle. It can be equipped with a fast fill valve; simply shut it off and remove the spray gun to fill a tank at 6.7 GPM without ever having to go back to the truck. This not only provides simpler operation, it also cuts down on route times.
VIDEO DEMO: See the Washdown and Fill X-Series Pump in Action
Proper Pump Placement
A pump system's location will vary based on a portable sanitation service truck's design. Ideally, however, the pump and controls should be placed at chest height atop the flatbed or chassis and adjacent to the fresh water tank. This placement makes it easily accessible for operators and is more ergonomic, helping to minimize back strain.
Placing the pump system atop the flatbed also helps to protect the pump housing. When pumps are undermounted near wheel wells, they can be subjected to road spray and have a higher likelihood of damage.
Protect Pump Components
While not ideal, there are times when placement near wheel wells is unavoidable due to space constraints. No matter where they're placed, pumps and their components should be protected from weather, dust, and debris. Most often, this is achieved by placing the unit inside a protective aluminum case. Generally, the protective enclosure doesn't need to be waterproof, but should be secure enough to withstand the elements.
Choose the Right Hoses
Improper selection of hoses can negatively impact a pump's regulator and overall performance. Inlet hoses from the water tank to the pump should be reinforced with spiral steel wire to prevent air bubbles or collapsing. Outlet and bypass hoses typically can be PVC or a general Ag spray hose.
The length of outlet hose can impact performance as well. Most washdown and fill pump hoses are mounted on a hose reel and extend between 20 and 50 feet. If a system is configured to reach much farther, the diameter of the outlet hose may need to be larger than the typical ⅝", or the motor's horsepower may need to increase to overcome the fluid's resistance against the added hose material. To achieve the rated performance of a portable sanitation pump, keep hoses 50-feet or less.
Minimize Complex Plumbing Configurations
Common issues with pumps in any industry are complex configurations of PVC or brass tubing. In particular, installers should avoid excessive use of 90° elbows and lengthy runs of tubing when plumbing a pump system. These conditions can restrict flow and reduce performance while also making the pump motor work harder than it has to.
It should be noted that bypass water can heat up quickly! If the bypass hose is routed straight back to the inlet, it will heat up the fastest. Just a couple minutes in bypass can cause permanent pump damage. The more water in the bypass loop the better, so a bypass hose routed back to the supply tank is preferred so that the maximum amount of water is in the bypass loop. This helps to slow down the heat buildup. Regardless, never leave a pump in bypass mode for longer than five minutes.
Use Proper Pump Accessories
Portable sanitation operators and technicians have a lot of starts and stops when moving from one house to the next. Turning off the pump motor in between each house proves inefficient. That's why we recommend using an unloader with a pressure switch to minimize load on the motor. The use of these accessories allows a technician to start and stop spraying with a trigger without having too much pressure or heat buildup. There are other ways to minimize built-up heat like having a longer bypass hose, but a lot will depend on the system's layout. It's best to consult with a pump engineer to determine which accessories are best and how to configure them.
VIDEO: How to Configure a Pressure Switch
Consider a Custom Pump Assembly
Properly configuring a washdown and fill pump can be a stressful and confusing endeavor. There are numerous nuances within these recommendations depending on your pump's rated performance, size, type, and the truck itself.
One of the best ways to ensure proper plumbing installation — and peace of mind — is to work with a pump manufacturer that provides custom pump assemblies to your specifications. At Pumptec, our engineers routinely configure "plug-and-play" pump assemblies that are tailored to a portable restroom truck manufacturer's specifications. These assemblies come with all the necessary components, including the pump, motor, hoses, fittings, regulators, bypass unit, and even the mounting brackets.
A portable sanitation truck is a major investment, and the washdown and fill pump may seem like a small part. That is, until you show up on the jobsite and find out the pump is unreliable and has inadequate performance. Some truck manufacturers, owners and operators have learned the hard way that they shouldn't skimp on pump technology in order to save a few hundred dollars.
You expect a custom truck to deliver years of reliable service. The washdown and fill pump system should, too. Investing in a custom pump assembly that is designed to fit a specific truck is a wise and economical move that has long-paying dividends.
Contact the portable sanitation pump experts at Pumptec today to talk through your requirements. Also take a look at a simple diagram below that shares some common configuration considerations, no matter the industry.