5 Things Every Operator Wants in a Portable Sanitation Washdown Pump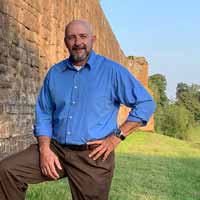 Shawn Glover, VP of Sales, Feb 28, 2023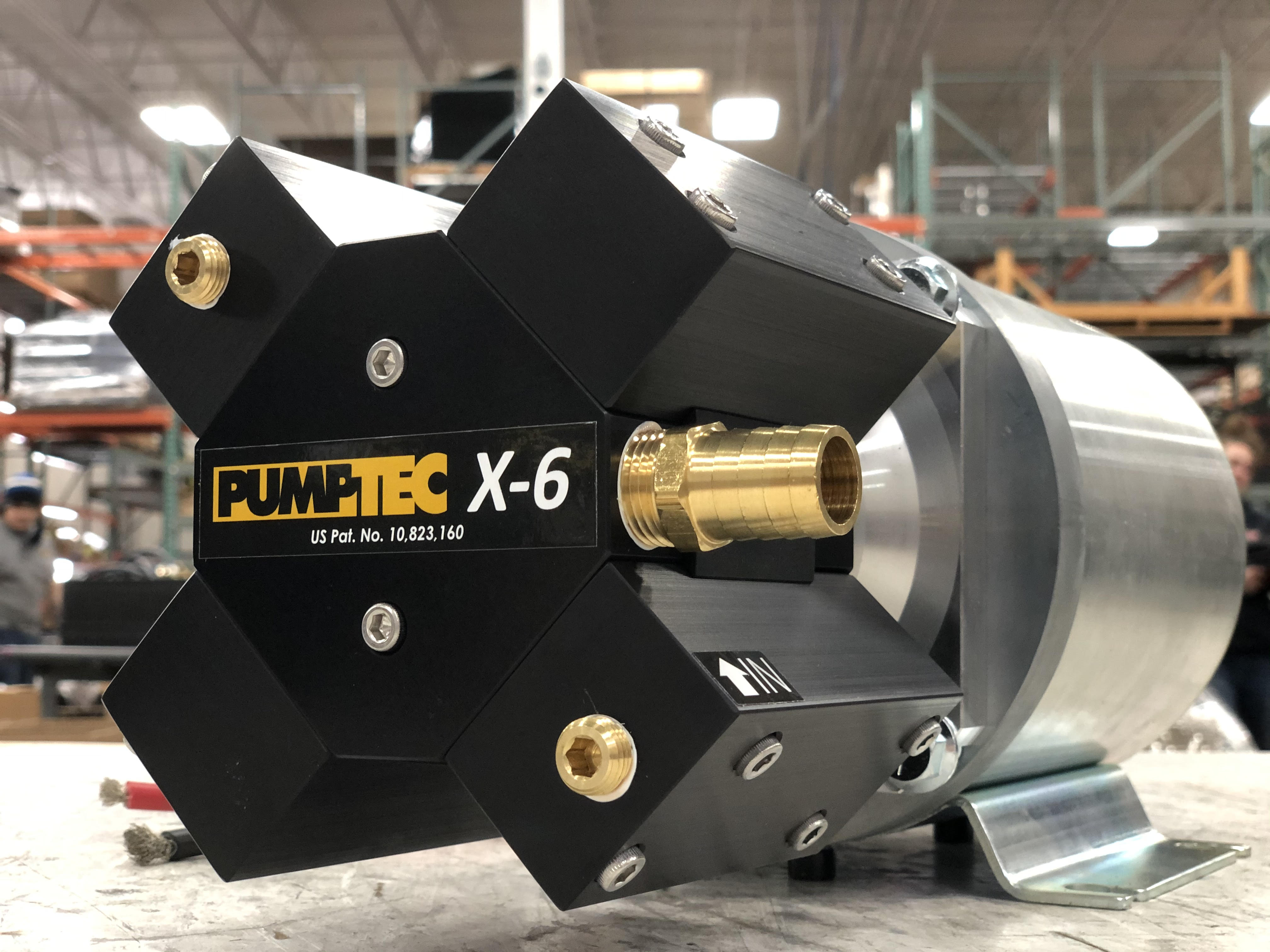 Whether a single portable restroom on a job site or multiple rows of units scattered across a festival grounds, operators want to get in and out quickly without compromising the quality of their work.
Portable sanitation vacuum pumps that remove waste are pretty straightforward. The washdown and fill pumps used to clean and replenish reservoirs with fresh water, however, have ample room for improvement.
Innovative washdown pump technology offers more options for the portable sanitation industry. What should operators look for?
WATCH THE VIDEO: Portable Sanitation Wash Down Pump Considerations
1. One Hose to Wash Down & Fill
Mounting multiple hoses and pumps to a portable sanitation truck comes with issues. Not all trucks, for example, allow for the same pump system configuration from one to the next. Minimizing plumbing by combining wash down and fill functions into one pump is one way to address space and configuration constraints, and comes with an added bonus: fewer trips back to the truck.
The X-Series pump by Pumptec is a two-in-one solution that allows operators to wash down and fill with one pull from the truck. It delivers ample pressure to easily knock down dirt and debris from surfaces without having to use rags or brushes. Then, operators simply switch to fast-fill mode and deliver up to 6.7 GPM, all with a single pull to the house.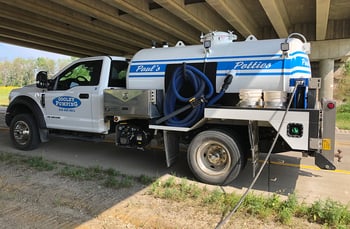 HOW IT WORKS
The portable sanitation washdown hose is equipped with a ball valve, quick disconnect, and a spray gun with a high-pressure nozzle. Once the wash down is complete, operators can easily switch to fill mode by disconnecting the gun/nozzle and using the ball valve to start and stop the fill water.
2. Less Pump Maintenance
Portable sanitation trucks often need to travel across dusty roads and rugged terrain, requiring industrial-grade, heavy-duty pumps. Some operators translate "heavy duty" to mean big and bulky, but bigger is not always better.
Portable sanitation pumps are sometimes made of cast iron. Though cast iron is widely believed to be strong, it's actually quite brittle and can crack easily when subjected to impact. Despite its lighter weight, aluminum alloy has considerably higher tensile strength, making it a preferred pump body material across a wide range of conditions.
The types of pumps vary as well. Some operators use centrifugal pumps which are great for filling a reservoir but often lack enough pressure to adequately wash down units. Centrifugal pumps are also prone to cavitation and may require priming.
Self-priming plunger pumps made with an aircraft-grade anodized aluminum body, ceramic plunger, and stainless steel valves are practically indestructible. An advantage of compact Pumptec plunger washdown and fill pumps is that they feature sealed bearings and require minimal maintenance. Comparatively, triplex oil-bath plunger pumps require daily lubrication and checking of oil levels, and can cost considerably more.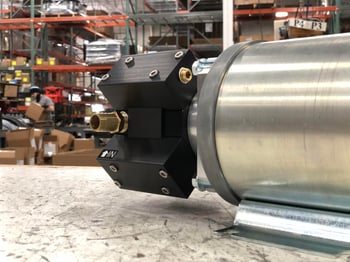 FEATURED WASHDOWN PUMP:
X-Series Pump — With a pump body made of aircraft-grade hardcoat aluminum, highly durable ceramic plungers, and stainless steel valves, the X-Series pump delivers 6.8 GPM and up to 300 PSI, allowing operators to wash down and fill portable restrooms with the flip of a switch.
3. Less Wasted Water
Operators need the majority of water in their tanks to fill portable restroom reservoirs. When they use too much water washing down the unit, it can drain their tanks prematurely, meaning they'll need to head back to the shop to replenish the water.
Combined with the right nozzle, a washdown pump sprayer needs to have adequate flow and high pressure to ensure proper cleaning without having to use rags or brushes. The X-Series pump can deliver twice the pressure and 20% more flow than most competing portable sanitation pumps. Less water also means less impact on the environment.
4. Reduced Route Times
Consider the time savings when an operator is able to wash down and fill in one pull from the truck. In the real world, a typical operator can spend around 4 minutes servicing a portable toilet. With the Pumptec X-Series pump featuring its powerful, all-in-one washdown and fast-fill mode, an operator could trim more than a minute off each house. Span that out over 50 portable units and you've just shaved an hour off your route.
When you add in reduced maintenance and fewer trips back to the shop to refill tanks, the time savings are compounded. Faster route times translate to the potential to add more units to your inventory without having to add more operators, driving up revenue opportunities.
5. Optimized Costs
Not only can a washdown and fill pump increase revenue opportunities, it can also optimize operating costs by combining two pumps into one. Portable sanitation companies can invest in a single pump unit instead of purchasing two individual units that require twice the upkeep.
The Pumptec X-Series pump is revolutionizing the portable sanitation industry. Learn more when you connect with a pump expert who can assess your unique situation and determine the ideal solution. You and your operators will be glad you did.