Soft Wash vs. Pressure Wash: Choosing the Right Method and Pump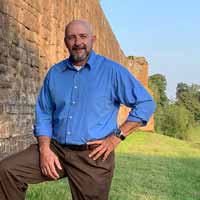 Shawn Glover, VP of Sales, May 17, 2022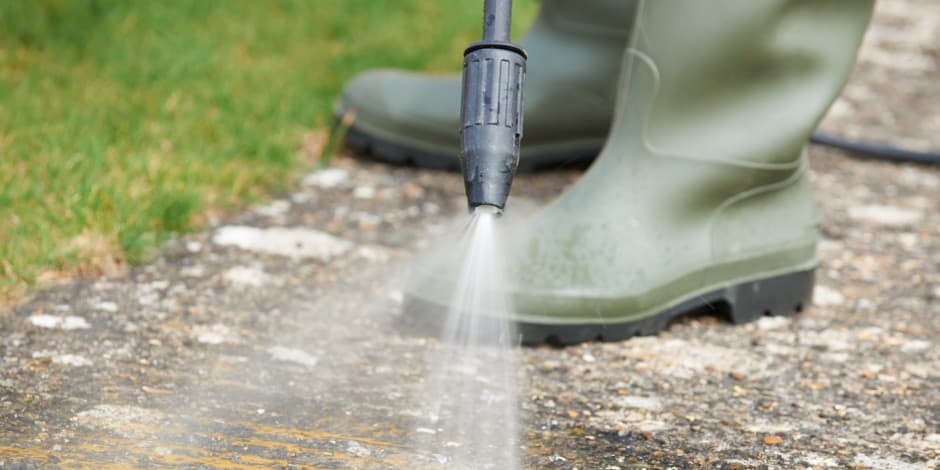 Many professionals who operate high-pressure sprayers use the terms pressure wash and soft wash interchangeably. There are many similarities, but the techniques, pump pressure, equipment, and chemicals for each vary considerably.
We'll look at pressure washing vs. soft washing, explain the key differences, and detail what to consider when choosing between the two.
What is Soft Washing?
Soft washing uses a pump sprayer to effectively clean exterior surfaces using a combination of water spray and chemicals. The typical pressure of the sprayer is between 150–300 PSI.
The types of cleaning chemicals and surfactants used to achieve the desired results might include sodium hypochlorite (bleach), sodium hydroxide, algaecides, and plain old water. Neutralizers are often used in combination with chemicals to minimize the negative effects of runoff on plants and the environment. A pump's chemical compatibility is a major consideration when selecting a system.
Soft washing can be used to remove the following stains or buildup:
Mold, mildew, and fungus
Moss and weeds
Algae and bacteria
Wildlife debris, bird droppings, and bugs
Oil and grease
Tree sap
Organic matter
Rust
Graffiti and paint spills
Appropriate outdoor soft wash surfaces include:
Vinyl siding
Cedar shake siding
Wood siding
Roofs
Pavers, brick, and tile
Stucco
Windows and doors
Outdoor furniture
RELATED ARTICLE: 5 Features to Look for in Soft Wash Pump Systems
What is Pressure Washing?
Pressure washing, also referred to as power washing, cleans exterior surfaces with a high-pressure water spray between 1,300-2,800 PSI. Pressure washing is used to remove many of the same stains and buildup that soft washing can, including loose paint, mold, mud, dust, dirt, and grime. However, it typically does so without the aid of chemicals and relies on the water pressure to get the job done.
The force of pressure washing should not be underestimated. Pressure washing surfaces that are intended to be soft washed brings a risk of damage. Mortar or grout can be removed from in between brick or tile. Paint can be stripped from walls. Asphalt can be removed during roof cleaning. Water damage can also occur when water is unintentionally forced under a home's siding at high pressure.
As such, pressure washing surfaces should be limited mostly to:
Stone
Asphalt driveways
Garage floors
Sidewalks
Patios
Concrete
Treated wooden decks
In the end, a soft wash system is generally more versatile than a pressure washer. So, let's look at some considerations when choosing a pump system for soft wash.
Choosing the Best Soft Wash Pump System
Performance-wise, a soft wash pump system should put out about 6.5 GPM at 150 PSI. Some operators find those numbers surprising, believing they need twice as much GPM and PSI.
Ultimately, proper nozzle selection will determine the output. It's not uncommon for a soft wash operator to use a 10–11 GPM pump, but then use a nozzle that restricts the flow to only 6 GPM. In the end, they really only needed a pump that was about half the size. Why does it matter?
Using an overrated pump system wastes energy, which is increasingly important as systems transition to battery power due to impending legislation banning the use of gas-powered engines. Additionally, an overrated pump will be larger and take up more space on the back of a truck. Cost is another consideration. Using a larger pump inherently comes with a larger price tag.
Matching the data to a specific orifice allows operators to invest in a system that's likely much smaller than they're used to. Understanding proper flow rates and pressure in combination with the right nozzle is the key to good coverage and getting in and out of jobs faster. If the output is too weak, you won't get enough horizontal and vertical throw; too strong, and you'll damage surfaces.
It's also important to identify which surfactants are being used in cleaning solutions to ensure chemical compatibility. The corrosive nature of many agents used to clean surfaces can easily corrode a pump system's components.
Sometimes it's easier to understand a concept with a real-world example. Freedom Power Washers was experiencing costly problems and disruption with their expensive gas-powered diaphragm pumps. They came to Pumptec seeking a solution and our engineers delivered significant savings and improved performance. Learn more about their story by clicking the link below.
When you're ready to improve your company's operations, reach out to the pump experts here at Pumptec. We'll help you determine the best GPM, PSI, and nozzles to achieve the output and results you're looking for.