Best Pumps for Commercial Carpet Extractors and Hard Surface Cleaners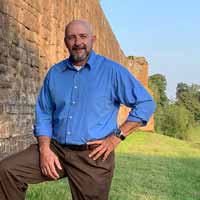 Shawn Glover, VP of Sales, Nov 23, 2021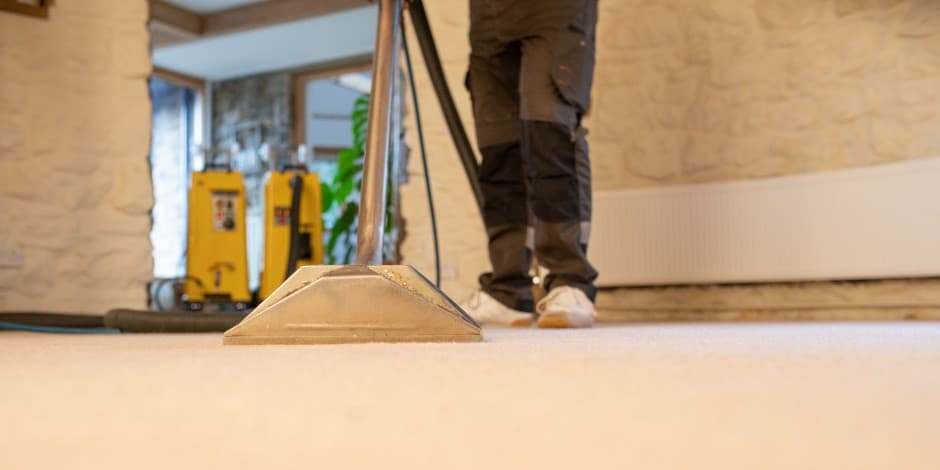 One of the toughest commercial cleaning jobs is removing dirt, grime, and stains from high traffic areas. Professional carpet and hard surface cleaners not only need to get the job done right, they also need to stand up to harsh chemicals, heat, and daily use.
There are other challenges, too. As the previous owner of a carpet cleaning business, I recall the days of trying to lug bulky equipment up stairs, through corridors, and into some pretty tight spots. Back then, there weren't many carpet extractor options that offered mobility and performance in one. And there were times when, honestly, the equipment I had created too much flow, making my cleaning process more difficult.
Maybe you can relate to some of these challenges and others I'll share below. Thankfully, pump technology has advanced since then, allowing manufacturers of carpet cleaning and hard surface cleaning equipment to offer performances that suit each cleaners' particular needs and style.
Hard Surface Cleaner Pumps
Cleaning stains and grime in grout lines and on tile that has built up over time is a delicate balancing act. Hard surface cleaning requires aggressive chemicals combined with a high-pressure pump. The difficulty is finding the ideal pump pressure and flow to restore grout, tile, and other hard surface flooring to its original luster.
That's because the porosity and condition of grout can vary widely, ranging from properly sealed to cracked or broken. Operators need enough pressure and flow to blast dirt and grime out of grout lines, but not so much that it damages unidentified compromised grout and potentially ruins the flooring.
For years, the commercial cleaning industry didn't have a good pump solution for hard surface cleaners. Still today, some use gas-powered pressure washer pumps in their equipment that requires running extensive lines from an outdoor gas motor to the interior of a home or business. Worst of all, excessive power can damage surfaces. Meanwhile, other operators rely on pumps that aren't powerful enough to clean properly.
To help professional floor cleaners, the Institute of Inspection, Cleaning and Restoration Certification (IICRC) established non-destructive standards to effectively clean hard surfaces. They determined that the ideal pressure is 1,200 PSI with a 2.2 GPM output. By contrast, the PSI of most gas-powered pressure washer pumps can be three times that recommended amount!
RECOMMENDED PUMP: In direct response to the IICRC standards, Pumptec designed the compact and quiet 356U series electric pump for hard surfaces. Made from aircraft-grade aluminum and stainless steel, it achieves 1,200 PSI and 2.2 GPM. It pairs easily with vacuums and multiple hard surface accessories like spinner tools with two #2 jets.
Commercial cleaners don't necessarily need to purchase multiple pieces of equipment for extraction. This is especially helpful for someone just getting into the industry without a lot of capital.
A portable high pressure (1,200 PSI) pumping system (shown below) allows commercial cleaners to achieve the recommended 1,200 PSI for tile and grout cleaning without having to purchase an expensive portable extractor that includes the 1,200 PSI pump. The compact accessory makes it easy for the technician to transport the pump system in and out of the job sites.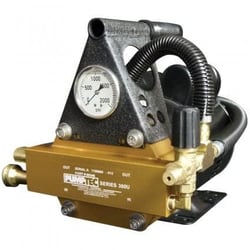 Carpet Extractor Pumps
To effectively clean a carpet doesn't require a lot of flow. On the contrary, too much water and cleaning agents can become a major problem, oversaturating the carpet and padding underneath. Carpet that is too wet creates an ionic charge that actually attracts dust and dirt from the air, shoes, and anywhere it can find it. The open-ended carpet fibers quickly absorb all that dirt, essentially locking it in. While the carpet may look clean initially, it resoils easily, and the dirt particles prematurely wear out the fibers.
Wicking can also occur due to excessive flow, actually rewetting old stains that have dried underneath, drawing them to the surface and leaving a larger "ghost" stain than the original one.
There's a well-known acronym in the carpet cleaning industry: TACT. It represents temperature, agitation, chemicals, and time, the four things needed to effectively clean soiled fibers.
Achieving proper levels of T.A.C.T. performance in portable extractors can be a challenge, especially when trying to compete with truckmount performance in a compact electric unit. Portable extractors need to include powerful pumps, vacuums, and heaters in a compact case and stay within the limits of 120-volt circuits. Additionally, the portable extractors need to be lightweight and maneuver easily.
To get the maximum value out of chemical agents, electric heaters need to increase water temperature as high as possible. Being limited to the 120-volt circuits does not allow for much heater technology improvements. Fortunately, pump technology now allows us to offer precise flow output, and we can pinpoint the exact flow desired for effective cleaning. This flow is much lower than what has been traditionally used, allowing electric heaters to be more effective.
The most commonly utilized pressure for carpet cleaning is 500 PSI. Although not typically a difficult performance to achieve, the challenge comes in creating this performance in a compact, low amperage, lightweight pump. Pumptec developed compact pumps to directly address this need and perfectly clean soft fibers.
RECOMMENDED PUMP: The 207V and 217V series pumps are made of anodized aluminum and stainless steel and can achieve up to 600 PSI and 1.5 GPM while drawing only 3.2 amps. When used with a panel mount pressure regulator, it achieves an optimal flow rate at 500 PSI without leaving carpets too wet, and it is optimized for inline heaters on heated extractors.
In the late 1980s, prior to Pumptec's introduction to the marketplace, the best available portable extractor performance was 350 PSI which was achieved with a bulky ½ or ¾ horsepower motor. The efficiency of the Pumptec pump allows the market to achieve greater performance and only utilize a ¼ horsepower motor: greater performance, more compact, and less amperage.
The more compact a pump is, the more easily it can be configured into a system. Get tips on how a Pumptec pump integrates with a carpet extractor system, along with recommendations on inlet hoses, filter placement, discharge fitting, and more. Download our guide to How to Configure a Plunger Pump Into Your System Application below, and contact our pump experts with questions.